by Chhut Chheana / USAID Wonders of the Mekong
In Khmer this fish is called Trey Slat, its scientific name is Notopterus notopterus, and its English name is the bronze featherback. The species has a maximum body length of 60.0 cm. It migrates from the Mekong River to floodplains during the flood season and back to the mainstem river or other permanent water bodies during the dry season. This fish feeds on insects, fish crustaceans and some young roots of aquatic plants. The bronze featherback was recorded on the IUCN Red List as a species of Least Concern in 2009.
This fish has a flat body and a gray color when young. Adults change color to a dark shade, or change color according to the surrounding water. It has a distinctively long anal fin that stretches from its pelvic fin to caudal fin. The scale near its head are large but its body scales are small. Its head profile is almost straight.
Please help to conserve flooded forests, which are fish spawning habitats, to ensure sustainability, and eliminate any use of illegal fishing gears that are prohibited by the fisheries laws in order to make sure fish are abundant for our next generations.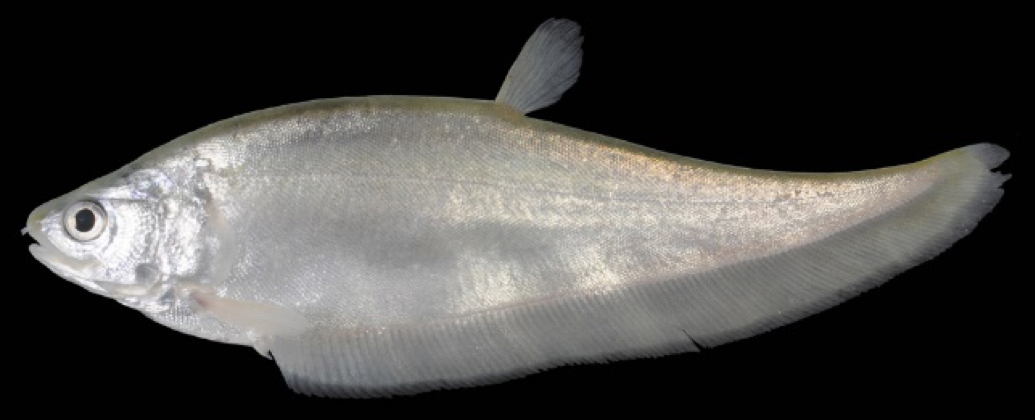 Photo by Thach Phanara / ffish.asia
ត្រីស្លាត ជាប្រភេទត្រីទឹកសាប ដែលរស់នៅក្នុងទឹកសាបផង និងទឹកភ្លាវផង
ដោយ៖ ឈុត ឈាណា / USAID Wonders of the Mekong
ត្រីស្លាត មានឈ្មោះវិទ្យាសាស្ត្រ (Notopterus notopterus) និងឈ្មោះជាភាសាអង់គ្លេស Bronze featherback មានប្រវែងដងខ្លួនអតិបរមា ៦០.០ ស.ម ប្រវែងដងខ្លួនទូទៅសរុប ២៥.០ស.ម។ ក្នុងរដូវវស្សា វាធ្វើចរាចរផ្លាស់ទីចេញពីទន្លេមេគង្គចូលទៅក្នុងតំបន់វាលទំនាបលិចទឹក និងត្រឡប់ចូលទៅជម្រកដើមវិញ ឬចូលទៅក្នុងតំបន់ដែលមានទឹកជាប្រចាំវិញ ក្នុងរដូវប្រាំង។ ត្រីស្លាត ស៊ីសត្វល្អិត ត្រី សិប្បិជាតិ និងឬសខ្ចីៗរបស់វារិរុក្ខជាតិផងដែរ។ ត្រីស្លាត ត្រូវបានគេកត់ត្រាចូលក្នុងបញ្ជីរក្រហម IUCN Red List (Least Concern) ក្នុងឆ្នាំ ២០០៩ ជាប្រភេទត្រីមានការព្រួយបារម្ភតិចតួច ដែលនឹងឈានទៅផុតពូជ។
លក្ខណៈសម្គាល់៖ មានខ្លួនស្តើង ពណ៌ប្រផេះពេលមិនទាន់ពេញវ័យ។ ពេលពេញវ័យប្រែពណ៌ក្រម៉ៅ (ជាទូទៅ វាប្រែពណ៌តាមទឹក)។ មានព្រុយគូទវែង ចាប់ពីព្រុយពោះរហូតដល់ព្រុយកន្ទុយ។ ស្រកានៅក្បែរក្បាលធំ ឯស្រកាតាមដងខ្លួនល្អិតៗ។ ក្បាលផតបន្តិច។
សូមចូលរួមជួយថែរក្សាព្រៃលិចទឹក ដែលជាជម្រកពងកូនរបស់មច្ឆជាតិ ឲ្យបានគង់វង្ស និងជួយលប់បំបាត់រាល់ការប្រើប្រាស់ឧបករណ៍នេសាទដែលច្បាប់ហាមគាត់គ្រប់ប្រភេទ ប្រយោជន៍ដើម្បីឲ្យត្រីគ្រប់ប្រភេទសម្បូរឡើងវិញ សម្រាប់ទុកឲ្យកូនចៅយើងជំនាន់ក្រោយ។
ត្រីស្លាត។ រូបភាព៖ Thach Phanara / ffish.asia