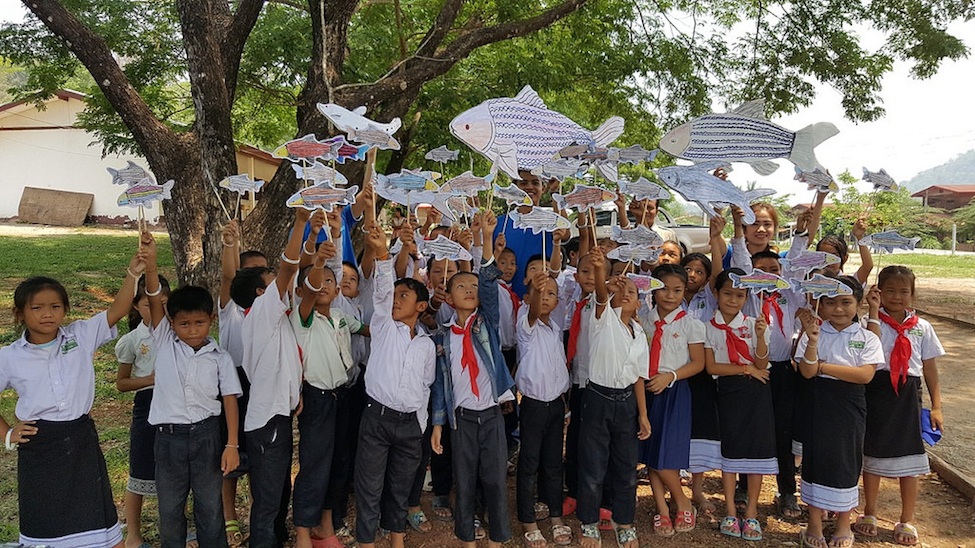 After several months of preparation, FISHBIO Laos celebrated World Fish Migration Day at the Ang Noi Primary School in the village of Ang Noi located near the Lao capital of Vientiane. The focus of the event was celebrating Jullien's Golden Carp (Probarbus jullieni), an endangered migratory fish that can be found in the Mekong River near Ang Noi. FISHBIO previously worked with fishermen in Ang Noi to document their fishing catch, and the participating fishers reported catching both adult and juvenile Probarbus fishes. While the official date for World Fish Migration Day is May 21, 2016, these celebrations came a bit early on May 9 to give students enough time to prepare for their upcoming exams. The activity is part of FISHBIO's Three Rivers Education Program, which seeks to teach students in California and Asia about the importance of rivers and fishes at home and abroad.
The event was attended by 47 students and teachers, as well as both village and central-level government officials. FISHBIO biologists introduced the students to the history of World Fish Migration Day, and talked about the importance of fish conservation, especially for fishes like Probarbus. The students then colored and crafted Probarbus puppets, which they took on a parade around the school grounds for a fun culmination of the mornings activities (watch this video to to see how it turned out!). The day ended wtih presenting some gifts to the school, including toy balls for the children, and ceiling fans for the classrooms.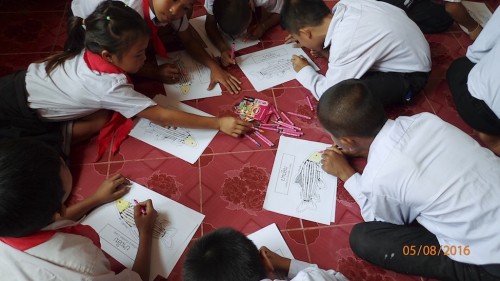 The students seemed to thoroughly enjoy the event, and FISHBIO were impressed by their ability to remember the facts they learned, such as the maximum reported length and weight of Probarbus fishes (1.5 m and 60 kg). Hopefully the activity will help these students develop a new awareness and appreciation for the special fishes inhabiting and migrating through their local waterway. This event follows on FISHBIO's 2014 World Fish Migration Day activities, which included a series of class presentations and a school assembly involving several international schools in Vientiane, Laos. Check out photos of this World Fish Migration Day activity on Flickr! Wishing everyone a very happy World Fish Migration Day 2016!