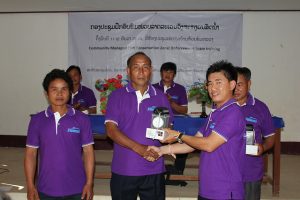 The major difference between a successful wildlife protected area and a "paper park" that exists in name only is enforcement of the protected area's regulations. Recognizing this, FISHBIO recently conducted training for enforcement teams to patrol the new Fish Conservation Zones (FCZs) we have helped establish in three villages in northern Laos. FCZs are community-managed areas; therefore, local communities play a vital role in ensuring that the regulations of their own protected areas are respected. Each of the three villages in our project has identified enforcement teams made up of representatives from key community groups, including village soldiers, village police and village forestry officers.
FCZ enforcement team training was conducted in the Houaykhoualoung sub-district zone in December. This included a one-and-a-half-day training, and a half-day of site maintenance to clear vegetation growing around newly installed FCZ signs. A total of 29 people attended the training, representing various levels of district government staff, sub-district village staff, and FCZ management committees from Houaykhoualouang, Kokfak and Pakpee villages. ​During the training, project personnel reviewed the management committee structure and discussed enforcement activities to focus on the spawning season of endangered Probarbus fishes (between December-February).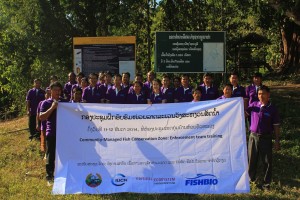 Participants were given a copy of the Lao fisheries law, as well as enforcement materials based on templates developed by the Wildlife Conservation Society (an observation form, logbook, warning form, receipts, and borrowing form for field equipment). We also held group discussions with each village separately to ensure that participants understood their village's reporting system related to illegal fishing and punishment. Three-person enforcement teams from each of the three villages will trade-off patrolling the FCZs every two days starting Dec 15 for three months. At the end of the training, project staff provided each enforcement team with equipment, including a digital camera, an LED headlight, a cell phone for communication, and T-shirts for team members. At the end of three months, FISHBIO will review the effectiveness of the enforcement activities and make recommendations for improving these efforts.