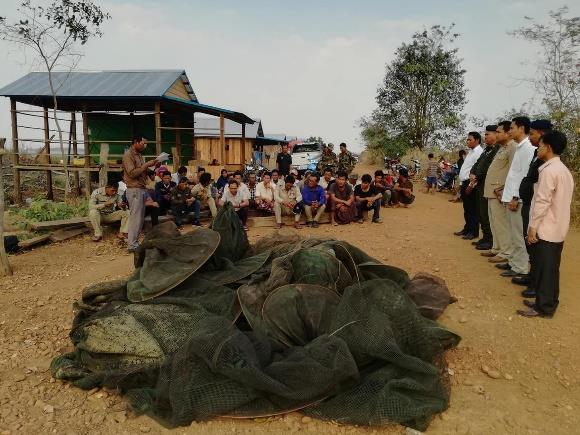 Organization: My Village (www.mvicambodia.org)
Location: Kbal Romeas Village, Kbal Romeas Commune, Sesan District, Stung Treng Province, Cambodia
Donor: Forum Syd, EWMI, and Oxfam
Contact: Narith Por (narith_por01[a]yahoo.com)
My Village (MVi)'s mission is to provide high quality support to local civil societies for improving natural resource-dependent livelihoods. In 2018, MVi carried out sustainable river and fishery conservation projects in 16 villages in seven communes, three districts in Stung Treng province. These projects aim to increase capabilities of rural communities to manage fishery resources. MVi supported communities and indigenous communities to manage fishery resources in collaboration with the Fisheries Administration Cantonment, Provincial Department of Agriculture, commune councils, and district authorities. This includes setting up fisheries conservation pools and confiscating illegal fishing gear.
Case Study: Active participation of Kbal Romeas indigenous community in fishery conservation
Kbal Romeas Chas community is located in Kbal Romeas Village, Kbal Romeas Commune, Sesan District, Stung Treng Province. The indigenous community has been supported by My Village (MVi) with financial support from donors like Forum Syd, EWMI, and Oxfam. Due to the indigenous people's challenges with water infrastructure development impacts and little action on fishery resource protection, such as unclear boundaries for fishery protection, many illegal fishing activities have been noticed in the area. With facilitation of MVi, communities were equipped with additional through like social media and issue analysis.  These community people were more active in conservation, and stronger collaboration among community people and authorities was observed. This included the confiscated and burning of illegal cast nets.