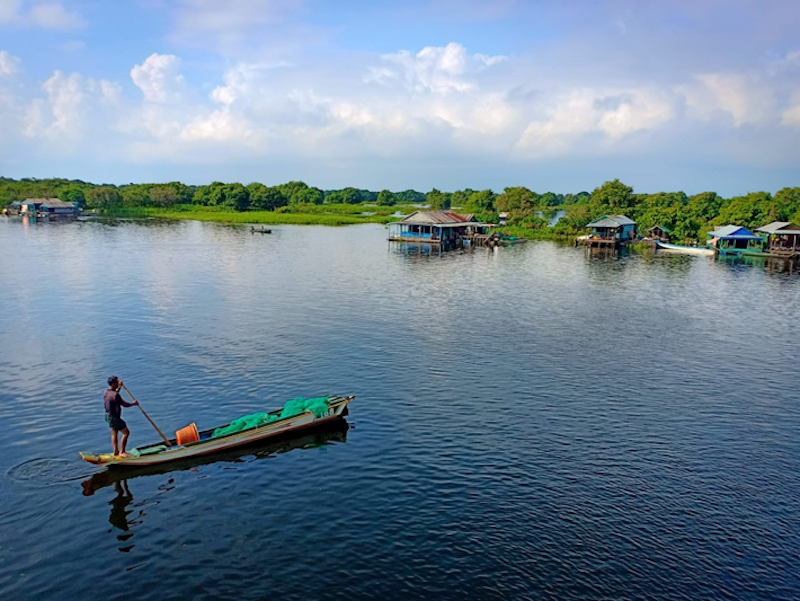 Project: Sustainable Fisheries Conservation Management Through a Collaborative Approach in Boeung Chhmar Moat Khla Area, Kampong Thom Province, Cambodia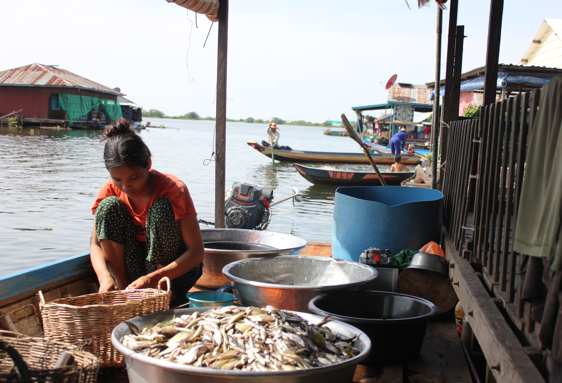 Organization: The Learning Institute (www.learninginstitute.org)
Location: Peam Bang Senchey and Doun Sdeung Senchey Community Fisheries in Peam Bang Commune, Stoung District, Kampong Thom Province in Cambodia.
Duration: June 1st 2016 – June 30th 2019
Donor: Critical Ecosystem Partnership Fund (CEPF)
Project Objectives:
To enhance and strengthen co-management among relevant stakeholders.
To strengthen the management of conservation areas and fishery resources.
To enhance and strengthen institutional development of Community Fisheries (CFis).
The above objectives enable CFis, seasonal fishers, relevant local and governmental authorities encompassing commune councils, the Fisheries Administration (FiA) Cantonment, and Ministry of Agriculture Forestry and Fisheries (MAFF), among others – including currently marginalized groups – to effectively collaborate and cooperate to share information and resources, strengthen management initiatives, and take cohesive action for the sustainability and conservation of the fishery resources.
Project Background and Description:
Cambodia possesses one of the largest and most diverse and productive fisheries in the world, with over 30% of the country consisting of either permanent or seasonal wetlands. Fish provides about 80% of the population's animal protein intake, and is particularly vital for food security and income in the poorest areas. The Tonle Sap Lake – the heart of the country's reliance on fish – possesses a high and expanding number of community fisheries (CFis) that are increasingly taking center stage in the management of the lake's alarming rate of depleting fishery resources. Yet, these CFis often lack an understanding of their legal rights, roles and responsibilities; of member commitment; and, in turn, of adequate mechanisms for advocacy and collaboration among various government agencies and other relevant stakeholders.
In Peam Bang Commune, 99% of the population relies on fishing as their primary livelihood activity, and only 1% are involved in small-scale business. Climate change, an increasing population and other non-climate factors have created pressure on fish and animal stocks. Although co-management arrangements have been introduced in the area, the adoption of practice has been slow to progress without targeted NGO support due to lack of familiarity with community-based resource management models and coordination amongst key stakeholders.
To address this issue, the key project activities included:
Multi-stakeholder collaboration in the co-management of the fisheries and conservation area in the two villages through identification of stakeholders and conservation initiatives in the area through a Participatory Rapid Assessment (PRA) used for sharing and identifying proposed solutions with relevant stakeholders.
Formulation, implementation and monitoring of a multi-stakeholder agreed operational action plan for management of the fisheries and conservation areas in the two villages. The management plan includes: patrolling activities, entrance fee, and benefit sharing mechanisms, among others. The action plan ensures the main stakeholders of the fishing area will be empowered in protecting and conserving their resources by granting them full rights and benefits in co-management activities, including patrolling, collection of fees, demarcation, monitoring of resources, and reporting to authorities and other stakeholders.
Empowering community fisheries in leading the co-management of the fisheries and conservation area of the two villages by building the human the financial capacity of the two CFis to actively participate and negotiate during co-management planning (through modules and trainings on proposal writing, negotiation, administration and management, financial skills; to manage savings groups (by introducing the concept of a cooperative system that will benefit the members in terms of production and management of products and resources); and to share information and knowledge so as to raise awareness and motivate members to conserve and sustainably manage of fishery resources.
Target Audience:
Two selected CFis (1 in Peam Bang village, 1 in Doung Sdeung village), Peam Bang Commune, Stoung District, Kampong Thom Province, Cambodia with a total of 376 families, 1,773 inhabitants.
Furthermore, three additional selected CFis work closely with the two mentioned above for purposes of this project by meeting occasionally (as a working network of five CFis) to share ideas and experiences, such as on best practices and challenges with patrolling activities, that require collaborative inputs from other CFis for effectiveness.
In addition, a variable number of seasonal migrant and semi-permanent populations in the area of interest are invited to participate in the activities and discussions developed in the frame of this project to encourage them to collaborate with the villagers in the biodiversity conservation of their environment.
Expected results:
 Informed relevant stakeholders effectively managing the fishery area, including the Conservation Areas.
 Developed and operational management plan with clear benefit sharing among stakeholders.
 Increased productivity and biodiversity of fisheries resources in the area, particularly the Conservation Area.
 Strong CFis with clear source of income and good network to implement their activities, including patrolling and conservation activities.
 Improved livelihoods of CFi members actively supporting the organization activities, including patrolling and maintenance of natural resources.
On-going Impact:
 Two conservation zones have been demarcated in Peam Bang and Doung Sdeung. Now we see a 100% reduction in the level of fishing activities in this area. There are no fisherfolk fishing here due to patrolling and outreach.
 Illegal fishing has decreased in the area.
 The engagement of women has been significant, as gender mainstreaming has been a key component within the project design and implementation.
 We have produced an official map indicating conservation areas and fishing zones. This has received approval by local authorities. We are in the process of receiving further approval from provincial and national levels.
 Members of the community fisheries are increasingly aware of the benefits of having a conservation area to sustain and improve their long-term livelihoods.
 Members of the community fisheries recognize the value of a collaborative approach that brings together various stakeholders for effectively managing fisheries resources.
Person to Contact:
Srey Marona, Executive Director, The Learning Institute
marona@learninginstitute.org